LOGICAL ASTROLOGY NEEV (LAN-01)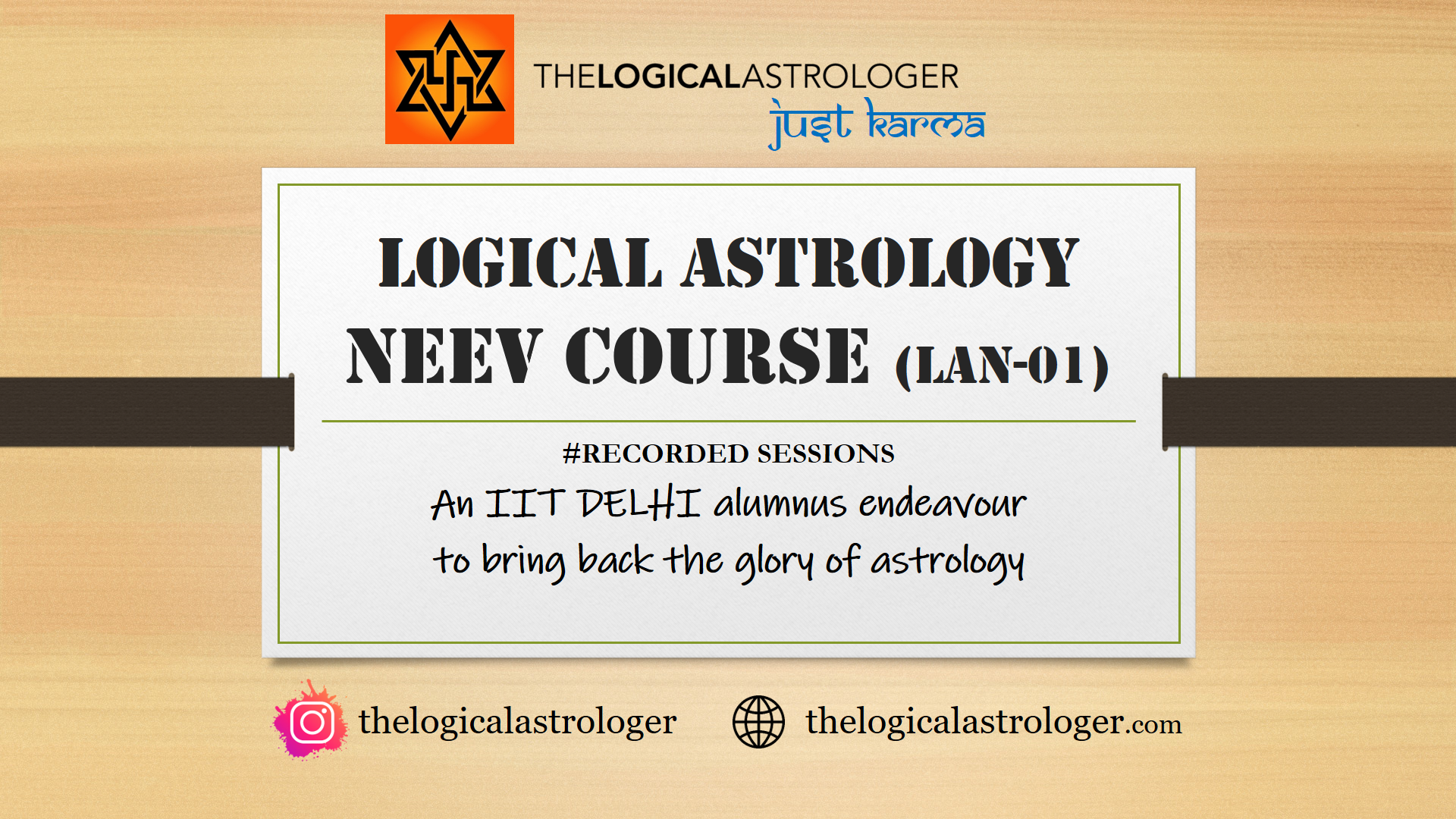 #RECORDEDSESSIONS
---
WELCOME TO LOGICAL ASTROLOGER UNIVERSE CITY
---
INTRODUCTION
I began my page "THE LOGICAL ASTROLOGER" on instagram with a vision of bringing the glory of astrology back. It is said that logical people do not believe in astrology but with my page I have tried to shake this belief by predicting events openly in an accurate manner. Because if astrology is not real then how am I predicting events beforehand.
In my pursuit of having a different and unique astrology page I have garnered unique followers who thankfully love reading my 10 page post . As per them , my page has ignited interest in learning this awesome science called ASTROLOGY.
After years of experience by doing numerous consultations and understanding the practical part of astrology which is a bit different from the theoretical aspect of astrology which we read in classical literature written by great sages like Shri Bhrigu, Varahmihira etc. ,
I hereby announce the 1st course as a part of 4 course series called LOGICAL ASTROLOGY NEEV (LAN- 01 ) primarily focusing on the deepest  and most important part of astrology i.e. Blank Chart Predictions.
---
MY VISION
Many of you must have seen numerous videos on you tube to learn astrology or done several online courses but still when it comes to prediction you feel frightened or lack of confidence to say your prediction out loud. For example : panchang, blank chart prediction , muhurat etc. are rarely covered in any astro courses available online in detail. When we are not able to predict we blame Vedic astrology and then look for alternatives like KP astrology or combine numerology with astrology. Do you feel me?
I have been there and that's why I decided to launch this holistic course combining all the things in one single course to predict life events of an individual kundli. I will share all the formulas I use to predict and I will not hide like other people do. I have met many astro teachers who use different formulae for predictions but when it comes to teaching , they rarely share them and we feel disappointed in the end.
That is why I make a promise to all those who wish to join the course.
MY PROMISE : know thyself
---
I promise that you will remember this course as the course that changed your life and gave you a new perspective towards life. It's a course to understand the philosophy of life & soul through astrology. This course is not just for those who want to earn from astrology but also for those who want to begin a new journey to know themselves. By the end of the course you will be able to deal with any kind of issues  in a better way. This course will give you the ability to understand in detail the potential of the SEED.
LAN 01 COURSE STRUCTURE
---
The LEVEL 1 course entails detailed understanding of:
12 Houses
9 Planets & their significations in detail(retro & combust concept included)
12 Signs & elements
12 Ascendants ( most important)
Divisional Charts (brief explaination)
Make sense of a KUNDLI with examples. (this will become your favourite lecture as lot of examples will be taken)
After reading the above you will be wondering about me not mentioning the prediction of marriage , property , job etc. Trust me the course structure looks small but it is not.
The art of prediction is impossible without understanding the above mentioned terms in detail . People do a number of courses on astrology on the internet but still miss the essence of the fundamentals and how to predict. Its a different course. Learn the basics in detail and then Astrology will be yours.
P.S ***The LEVEL 2 course will be focused more on the predictive part i.e. Dasha & GOCHAR in DETAIL and the LEVEL 3 course will be on 27 Nakshatras and 108 navamshas in detail . The Level 4 course will be on Muhurat & Remedies.  
Such a detailed course can not be found anywhere and it would require a serious commitment from the students. This is not a crash course, I hate them as I have been a victim of such crash courses in my beginner days where I spent lakhs of rupees in different courses and was unable to make detailed predictions of kundlis . If you are fond of doing cheap & fast courses then this course is not the one for you. I believe in quality,  and moving slowly step by step just like my favourite animal "tortoise" who is a perfect embodiment of SATURN.

DURATION & FEE STRUCTURE
---
ATTENTION !!!
LAN 01 live lectures course have been completed. You would need to watch recorded sessions of  LAN 01 till I begin LIVE LAN01 course again which might take 1.5 years. But, good news is that you can join soon to be launched "LAN 02 course" live lectures. I request you to just Scroll down patiently to know full details of it.
WHY you need RECORDED SESSION OF LAN 01 ?
---
I know many of you wished to join LAN 01 live lectures but currently due to time constraints I wont be able to start a new live batch in near future. I might start a new batch after 1.5 year but who would want to do that when you can get live lecture immediately. Trust me, when you will see my lecture you will feel as if you are watching a live lecture. The fee structure will also change in future, hence more incentive to join LAN 01 NOW & become part of my "LOGICAL ASTROLOGER UNIVERSE CITY" .
MY STYLE OF TEACHING
---
I am sharing below my full 3 hour lecture on Pisces Ascendant blank chart prediction from my you tube channel.
*If you like it then don't forget to subscribe my youtube channel. Click the button below to subscribe my YOUTUBE channel.
Those who want to join LAN 01 would now need to buy video lectures. The LAN 01 series constitutes 28 Lectures. Each lecture has a minimum duration of 2.5 to 3 hours. The moment you buy LAN 01, just share your payment screenshot along with your gmail id to my whatsapp and I shall share lectures to your Google Drive which you can watch from any place , any time.
Sequel to LAN 01 i.e. LAN 02 live lecture will be beginning shortly by the end of November 2022 or in the month of December 2022 which you can happily join after you have completed LAN 01.  
Once you have completed LAN 01 and wish to join LAN 02 then you would need to fill google form for LAN 02. Link having detailed structure of LAN 02 with google form shall be shared soon here.
***Q & A session will be scheduled for your doubts separately. No worries on that.
LAN 01 : Rs. 36000/-*   (video lectures)
LAN 02 : Rs. 36000/-* (COMING SOON in NOVEMBER/DECEMBER)
LAN 03 : Rs. 36000/-* (after LAN 02 gets completed)
LAN 04 : Rs. 36000/-* (after LAN 03 gets completed)
*Those who will pay one time fee shall be shared all lectures in one go.
* One can pay in EMI too i.e. Rs.6000/month. But then you will be shared 4 videos per EMI after sharing screenshot of fee on my whats app no.
***The videos are non shareable to others and cannot be downloaded. If I find any attempt has been done to share videos illegally then your membership will be revoked immediately and no refund of fees will be there for such nonchalant students.
LAN 005
One-On-One FULL COURSE (LEVEL 1 TO 4 in one go)
---
DURATION & FEE STRUCTURE : * (LAN-005)
"One-On-One " LIVE Lectures are also available if one does not wish to join the group class for any reason.
The course shall be completed within a span of a time that has been mutually decided between us.
The timing of the classes shall be flexible depending upon mutual consensus.
FEES: Rs 5,00,000/-*
* One can pay in EMI too i.e. Rs.1,25,000/level. There are 4 levels to this course. Payment will be made before beginning of each LAN level.
GOOGLE FORM
---
Please don't forget to fill the google form shared below if you are interested in buying the course but have some doubts to discuss about the course with me. You can also write your doubts about the course in google form.
Those with no doubts about the course can directly want to make the payment can do so by making the payment followed by sharing the screenshot on my what's app no. Mode of payment details have been given below GOOGLE FORM :)
PAYMENT DETAILS
---
GOOGLEPAY @ 9205108817
upi : thelogicalastrologer10@okhdfcbank
Those requiring net banking details or international payment details can DM me on my INSTA/WhatsApp @9205108817.
***DO NOT FORGET TO SHARE SCREENSHOT OF PAYMENT ON WhatsApp ONLY .
THANKS
NAKSHATRA N TANWAR
THE LOGICAL ASTROLOGER