THE LOGICAL VASTU CONSULTATION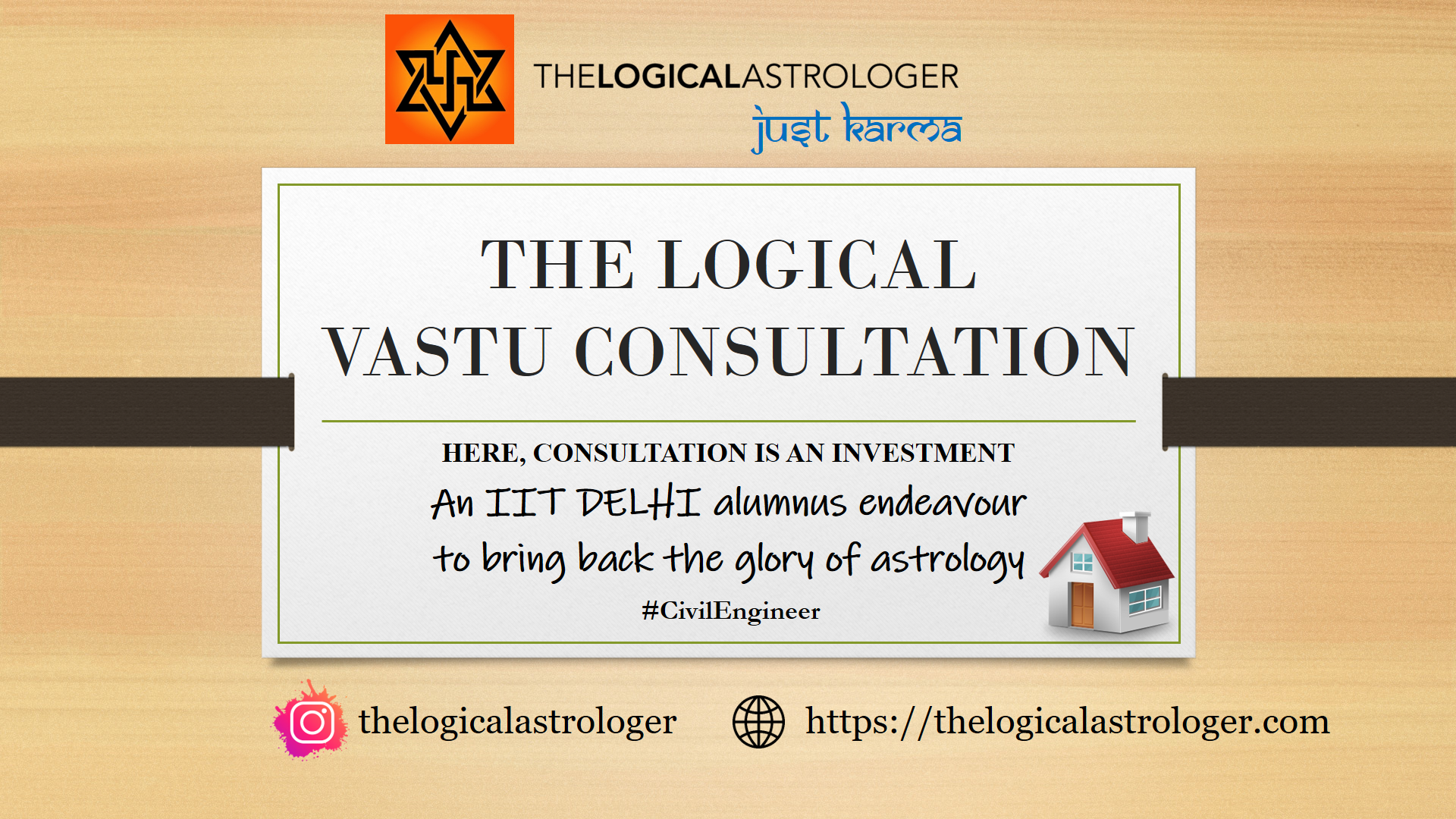 Buying one's own house is a dream for every human being. One spends a lifetime of hard earned money on his/her dream house. One term which everyone encounters while buying a house is "VASTU COMPLIANT HOME".
No one wants to keep a VAHAM or a superstition so even those who do not believe in it succumb to the VAASTU pressure.
But is the house that you are buying really VAASTU COMPLIANT ?
VASTU compliance
---
Just having a bedroom in the South West does not make home Vastu compliant.
Nowadays, Every Builder tends to claim the building to be Vastu Compliant and majority of buyers blindly believe them without doing any due diligence.
But how can they do due diligence when there is a dearth of well educated and intelligent people in this field to clear their doubts about Vastu.
The same issue which we face with astrologers is present in Vastu consultants too i.e they do not make you understand the basics or WHY of it.
Hence, a good referral or the ability of a consultant to quell all of your doubts should be taken into consideration for benchmark.
Why is VASTU important ?
---
Growth occurs at a faster space when there is symmetry from a fixed point of reference. The whole purpose of Vaastu is to make your house symmetric and in consonance with the environment where you live.
Further, Vaastu not only considers the local environment but also wants you to have a home in consonance with earth's tilt, rotation, sunrise etc.
Local environment variables change but planetary variables are fixed. Hence in kashmir I cannot make a house that I have built for Rajasthan,  but Vastu planetary principles like slope towards North East shall remain universal.
It is these planetary principles which we use in General Vastu.
KUNDLI BASED VASTU
---
My new concept of KUNDLI BASED VASTU HOMES not only includes principles of General Vastu but also takes into consideration the Kundli of the individual without which the efficacy of VASTU is very low.  
My purpose is to give the concerned person the best environment to have the best conducive environment for prosperity.
In the above case , the first remedy is in the selection of the location of the house in a way that he/she gets the least effect of blocked lanes in the colony.
HOW TO BUY FLATS/HOUSE ?
---
One spends his/her hard earny money in crores for buying a House, the proper way will be to select the houses in which you feel good and then take a Vastu consultant for one whole day and show him/her diff houses and then he/she shall help in finalizing the best house with proper remedies backed by logic.
P.S putting pyramids and crystals is not a remedy.
***Any Vastu person or Architect  without knowledge of Kundli cannot become a good Vastu Consultant.
---
CONSULTATION FEES
---
As our soul lives in our body , Similarly our body lives in our house/home. Majority of flats /houses that we see are non symmetrical in nature and these day architects have no idea of how to keep a HOUSE IN POSITIVE ENERGY. In the name of modernism/random aesthetics they have destroyed the traditional system of house designing and have played with the soul of your home by disturbing balance of AIR & LIGHT elements. They have also played with the house by giving cuts and extensions which affect the Vastu and hence the energy of your house.
One needs positive energy in life. Get it by Map Correction.
The specialty of my kind of correction is that you won't be requiring any major renovation. Ancient method of symmetry correction is used and no crystals or  Feng-shui shall be used as they are not effective.
P.S. No crystals or Feng-Shui shall be used
P.S. It also includes house selection via maps only.
PROCEDURE :
You shall be sending me the house map which you intend to finalize before purchasing or your existing house. Then on the date of consultation I shall be helping you in understanding about the changes required along with reasons and remedies.  The given fee is for small houses and office spaces. For big projects you shall need to consult separately.
Though I always advise to have in person visit as the vibes of the house and neighborhood of the house and other factors can be best analysed when you are at the house but it is not possible for everyone. Some are abroad and it is difficult to reach some places at the requisite time. For purposes mentioned above and other purposes, I also offer Video Vastu Visit.
*** In Person Visit is not included in this option and for that you would need to book separate option given in option no. 2
₹15,000 INR  |  $253 USD  | upto 1 HOURS | 0 - 250 yards
₹21,300 INR  |  $350 USD  | upto 1 HOURS | 250 - 500 yards
₹25,300 INR  |  $401 USD  | upto 1.5 HOURS | 500 - 1000 yards
₹32,000 INR  |  $500 USD  | upto 1.5 HOURS | >1000 yards
***No extra charges for separate floors
*** For fresh construction of house from scratch fee will be +10000 on the above mentioned rates
***The above charge is for maximum 1 map. For more than that additional cost of Rs. 5000 will be levied till 3 maps and 8100 will be levied till 5 maps.
2. Selecting New Flat / VASTU VISIT [IN PERSON VISIT]
Buying a Property is a significant milestone in one's life which requires a lot of brainstorming.
VASTU is not that simple which we see on the internet. Majority of builders say that the house has a Master Bedroom in the South west and temple in the North East and just by saying these two things they claim house to be Vastu compliant.

When one invests millions of rupees in a home, they lose piece of mind if they discover that the home, which was advertised as VASTU compliant, is not in fact so. As a result, I offer advice on choosing the finest apartment, plot of land, or house from the choices you have chosen. I accompany you to each flat in this area so that you can choose the best, Vastu - compliant, positively-charged residence for you.
Similar to Kundli Milan, VASTU helps you find the partner you're meant to have. According to the Kundli, you will therefore unavoidably receive a home with some flaws. My goal is to reduce or eliminate the consequences of any flaws you unconsciously acquire. Today, a similar idea is known as Astro-Vastu. You can learn more about how I explained this in detail in a post on my Instagram account by clicking here.
To see a glimpse of my Vastu visit click here.
₹32,000 INR  | $500 USD |    0-600 yards | upto 3 hour visit
₹41,000 INR  | $600 USD | 600-1000 yards |      upto 3 hours visit
₹51,000 INR  | $700 USD  | 1000-2000 yards |  upto 6 hours visit
₹81,000 INR  | $1000 | 2000 yards & above     | upto 6 hours visit
*There are a maximum of two units included in the price schedule above. For additional units 2-5 | Rs. 11,000 extra  , 5-8 | Rs. 22,000 extra etc. would be charged.
*Same charges for factory visit  ;
*Vastu visit includes map correction
*For fresh construction of house or builder floor We need to talk separately. It will have different fee structure.
*For outside Delhi-NCR consultancy additional charge of ₹20,000 INR will be added to the above mentioned fees.
travel and accommodation to be provided by the host for outside Delhi NCR.
travel to be provided by the host for with in Delhi NCR.
*timings flexible.
MODE OF CONSULTATION
---
Consultation for Map correction or online Vastu Visit shall be done via ZOOM CALL .
Meeting id for zoom shall be shared once the scheduling & fee for the session is done.
MY COURSES & OTHER
---
CLICK ON THE LINK BELOW
PAYMENT DETAILS
---
GOOGLEPAY @ 9205108817
upi : thelogicalastrologer10@okhdfcbank
QR CODE :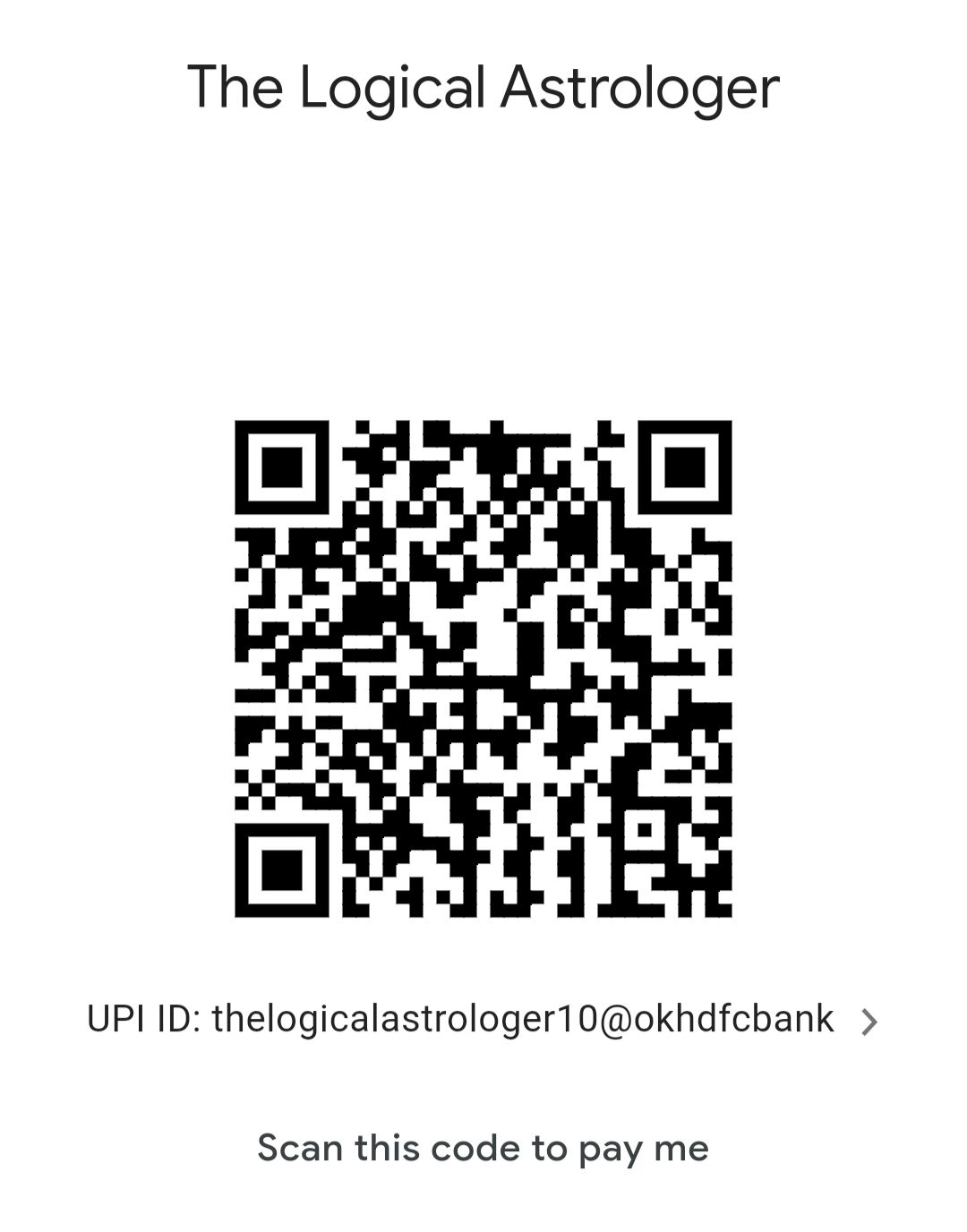 Those requiring net banking details or international payment details can DM me on my INSTA/WhatsApp @9205108817.
***THE PAYMENT NEEDS TO BE MADE WITHIN 3 HOURS OF BOOKING TO AVOID CANCELLATION.
***DO NOT FORGET TO SHARE SCREENSHOT OF PAYMENT ON WhatsApp ONLY .
THANKS
NAKSHATRA N TANWAR
THE LOGICAL ASTROLOGER