THE LOGICAL VASTU CONSULTATION (BUILDER EDITION)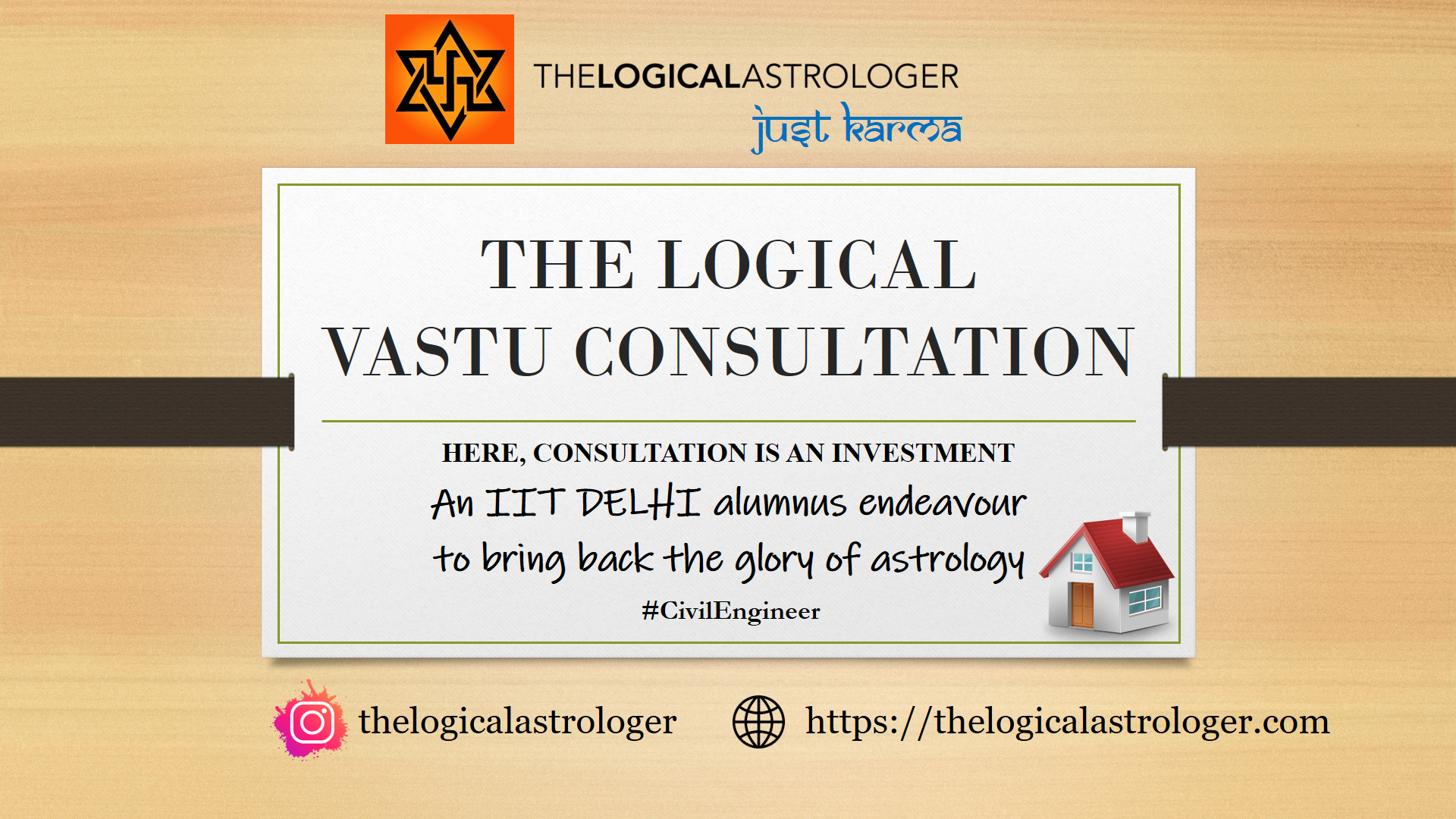 ---
VISION
The logical Astrologer aims at revolutionizing the housing market by collaborating with builders helping them stand apart in the crowded market leading positive effects which are giving customer peace of mind, reduce trust deficit and increased revenue generation for builders.
Why we need my type of Vastu?
This article is my appeal to  builders construction industry which is striving to meet the diverse needs of homeowners in an era where authenticity has become a rare commodity.  It's time for builders to seize the opportunity to transform their businesses and enhance customer satisfaction by embracing a new perspective on Vastu principles. Here , I  passionately advocate for the integration of proper Vastu in constructing apartments and villas, assist in selecting lands with integrity, and explore the added benefits of individual horoscope consultations which I call as Kundli based Vastu.
Many buyers in market are dissatisfied due to the unethical practice of selling houses labeled as Vastu-compliant without adhering to proper guidelines. This is the right time to convert customer dissatisfaction into satisfaction and increase your sales.
Let us understand that how my kind of Vastu shall help builders increase revenue and trust in detail:
EMBRACING AUTHENTICITY IN CONSTRUCTION
---
By genuinely incorporating Vastu principles into your construction projects, you establish a reputation for integrity and reliability. Buyers deserve homes that truly promote positive energy and well-being. Honoring their expectations not only builds trust but also fosters long-term relationships with satisfied customers.
Embracing Vastu and delivering authentic Vastu-compliant homes generates positive word-of-mouth referrals. Satisfied homeowners become enthusiastic advocates for your projects, attracting more buyers who value the holistic and harmonious living experience you offer.
Helping customers buying Vastu compliant homes
---
The Logical Astrologer shall help to guide buyers in selecting lands that genuinely align with Vastu principles. Conduct thorough research and analysis to ensure the chosen lands optimize positive energy flow. Transparency is key in sharing your findings, empowering buyers to make informed decisions. This can be applied when builders are paid by clients to make villas or when builders themselves are looking for a land to construct.
Educating Buyers
---
We will together Shed light on the prevalent issue of misleading buyers with false claims of Vastu compliance. Educate them about the fundamental aspects of Vastu and its significance in creating a harmonious living environment. By enlightening buyers, we can eliminate deception and cultivate a culture of authenticity which lacks these days.
---
Enhanced Revenue Generation
---
Offering truly Vastu-compliant homes expands your market reach and generates more revenue. Discerning buyers are willing to invest in properties aligned with positive energy, knowing they will experience enhanced well-being and prosperity. Authenticity becomes a competitive advantage that drives sales and boosts your bottom line.
INTERIORS
---
The Logical Astrologer will help in choosing appropriate material selection.Choosing appropriate building materials is essential. For instance, using natural materials like wood, stone, and clay can create a balanced and eco-friendly living environment. Additionally, selecting colors according to Vastu principles can further enhance positive vibrations within the space. But above principles can be tailored as per the client's family kundli using Kundli based Vastu method.
KUNDLI BASED VASTU
---
Tailoring Spaces to Individual Horoscopes
The Logical Astrologer shall help builders to get one step ahead from other builders by breaking away from conventional designs by incorporating individual horoscope consultations. By understanding the unique planetary influences on buyers' lives, we can create personalized house designs that maximize positive energy and foster growth in specific areas of their lives.
A Unique Offering
Offering personalized house design consultations sets you apart from the competition. Buyers will appreciate the attention to detail and the opportunity to create a home that resonates with their individuality. This bespoke approach to construction elevates the desirability and marketability of your projects.
Prosperity and Sales Boost
Homes designed based on individual horoscopes, in alignment with Vastu principles, become magnets for prosperity. By highlighting this added benefit, Builders can attract buyers seeking not just a house but a harmonious living space that supports their personal growth. The promise of a prosperous and fulfilling life encourages more sales and positions your projects as highly sought-after.
CONCLUSION
---
Embracing The Logical Astrologer's unique insight into Vastu principles, Kundli based homes and adopting a transparent approach to construction will create a paradigm shift in the industry. By delivering authentic Vastu-compliant homes, you foster customer satisfaction, build lasting trust, and attract a loyal customer base. Incorporating individual horoscope consultations adds a personalized touch, amplifying the appeal of your projects. Together, let us pave the way for a new era of authenticity and prosperity in the construction industry.
***Any Vastu person or Architect  without knowledge of Kundli cannot become a good Vastu Consultant.
---
CONSULTATION FEES
---
The consultation fess will be decided as per the builder's needs i.e size of the project , no. of flats, visits required during construction,interior advice etc.
MODE OF CONSULTATION
---
Consultation for Map correction or online Vastu Visit shall be done via ZOOM CALL .
Meeting id for zoom shall be shared once the scheduling & fee for the session is done.
MY COURSES & OTHER
---
CLICK ON THE LINK BELOW
PAYMENT DETAILS
---
GOOGLEPAY @ 9205108817
upi : thelogicalastrologer10@okhdfcbank
QR CODE :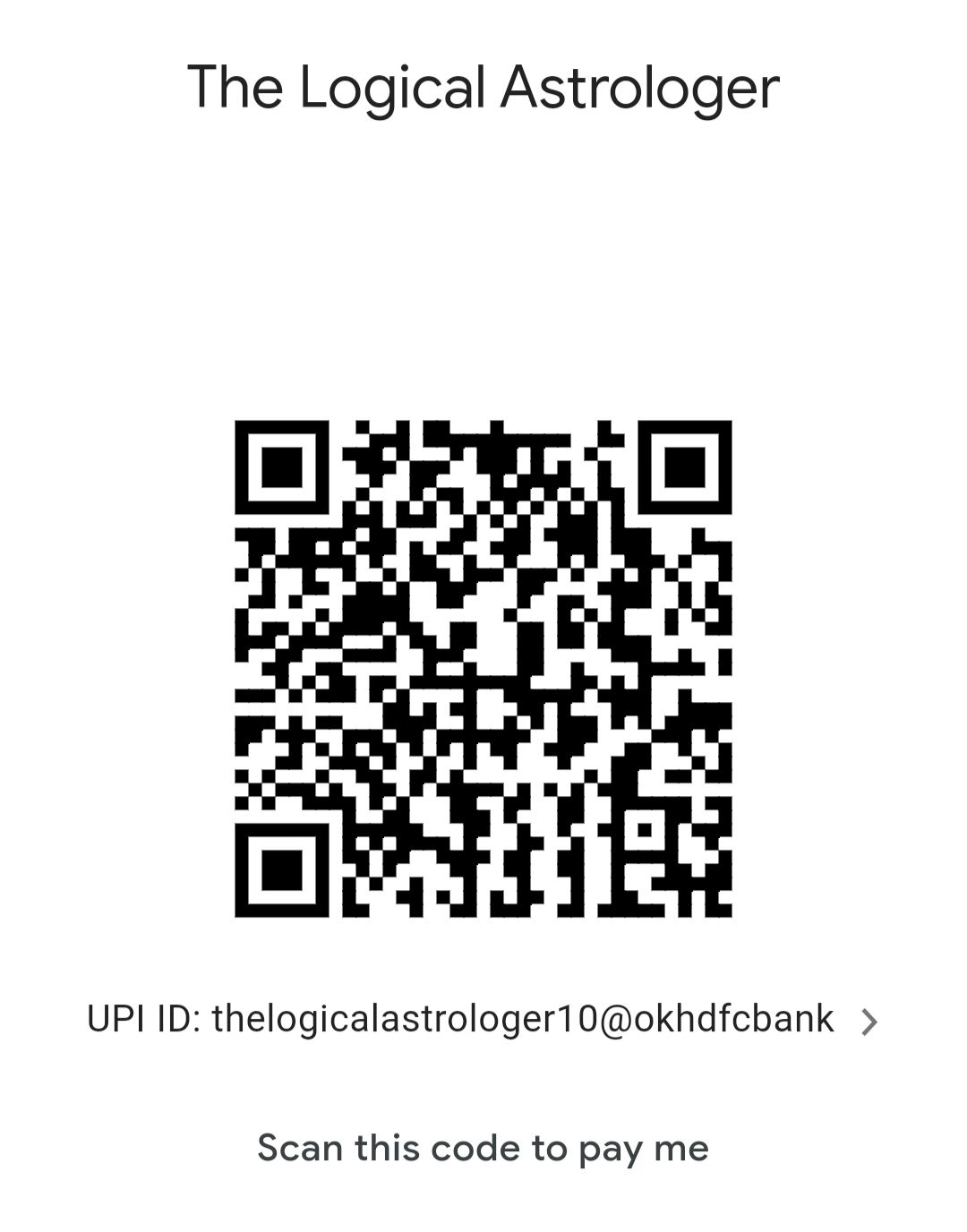 Those requiring net banking details or international payment details can DM me on my INSTA/WhatsApp @9205108817.
***DO NOT FORGET TO SHARE SCREENSHOT OF PAYMENT ON WhatsApp ONLY .
THANKS
NAKSHATRA N TANWAR
THE LOGICAL ASTROLOGER