JIYE TOH JIYE KAISE COURSE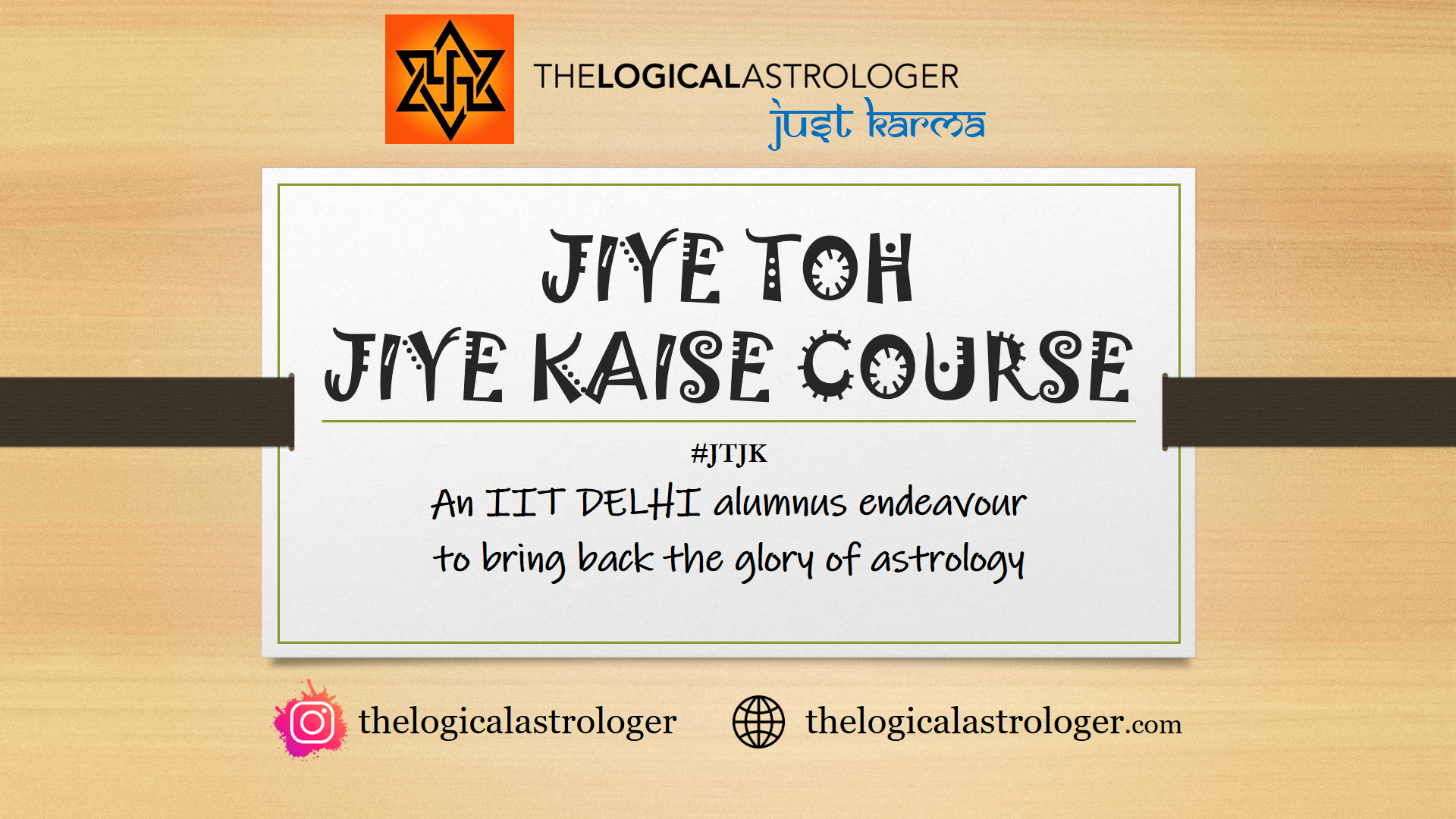 SELF DISCOVERY COURSE
---
#JTJK
This course is about how to live life in a manner where you increase our happiness by accept the reality and increase the joy of life by understanding LAW OF LIFE using philosophy offered by Astrology.
Now I know that astrology courses are long and they need time and money. Many of you want to know about yourself and why things happen ia particular way for which there are no seemingly reasonable answers available . This course will also address the rising mental health issue and how to address it by understanding astrology and your kundli.
Further, Many of you do not want to know astrology in detail as you have your own career and busy schedule. But you have keen interest and I am aware about that and hence I am launching this course. This course is for any person who has no idea about astrology but wants to make use of it in real life.
Firstly,  I shall take 4 lectures of 2 to 3 hours each and secondly, that you shall be given the MAJOR JTJK consultation worth Rs.10,500 for just Rs.6000 on a date and time opted by you from my calendly link which will be shared to you personally in which your Kundli shall be discussed in detail.
This course is an investment and not expenditure for life.  
What my 4 lectures shall entail ?
---
I will clear the myths surrounded arounded astrology so that when you do your consultation you sit with a clean mind.
I shall make you understand some basics of kundli in brief and the principles behind it .
How this universe works and Law of karma in the most logical way coming from my personal spiritual experiences.
There will be extensive Q &  A on all the myths and doubts that you have since childhood.
Mental health and anxiety will also be addressed and some short remedies will be given about that too.
General remedies given by our sages to be performed to have a good life in general shall be shared for each planet and some tips on how to have a house with good energy.
Will also be teaching one of the biggest remedies which you will be using maximum in daily life which is application of  HORA (a daily life remedy) .
DURATION & FEE STRUCTURE
---
Duration for 4 to 5 lectures shall be 2 hour each which can extend to 3 hours , hence be prepared for that.
FEES : ₹ 06,000/-
FEES : ₹ 12,000/- (including Major consultation worth Rs.10,500)
Duration of each lecture is 2 hours but it usually goes for 2.5 to 3 hour so be prepared for that.  
Classes shall be held online on every Sunday of every week for two hours on ZOOM.
Classes will  begin in month of November.. The exact MUHURAT for 1st class for the new batch shall be communicated to those who will be added in the class whats- app group.
***(Time is flexible depending upon the consensus of the students).
*there is no EMI option available for this course.
*Video will not be given unless someone misses the class for unavoidable reasons.
*One has to attend the previous class to qualify for the next class.
MY STYLE OF TEACHING
---
I am sharing below my full 3 hour lecture on Pisces Ascendant blank chart prediction from my you tube channel.
*If you like it then don't forget to subscribe my youtube channel. Click the button below to subscribe my YOUTUBE channel.
GOOGLE FORM
---
Please, don't forget to fill the below google form if you are interested in joining the course. :)
PAYMENT DETAILS
---
GOOGLEPAY @ 9205108817
upi : thelogicalastrologer10@okhdfcbank
Those requiring net banking details or international payment details can DM me on my INSTA/WhatsApp @9205108817.
***DO NOT FORGET TO SHARE SCREENSHOT OF PAYMENT ON WhatsApp ONLY .
THANKS
NAKSHATRA N TANWAR
THE LOGICAL ASTROLOGER